The finals draw was held at the ROMEXPO in the Romanian capital of Bucharest on Saturday November 30. The 20 qualified teams and the four would-be qualifiers were placed into six groups of four according to seedings.
Of the currently 20 teams that have qualified for the tournament, 17 are returning from the 2016 edition. Among them are Belgium and Italy, who both recorded flawless qualifying campaigns (10 wins in 10 matches), defending European champions Portugal and world champions France, with Germany also qualifying for a record 13th straight European Championship. Finland will make their European Championship debut, having never previously qualified for a major tournament. The Netherlands and Denmark returned after missing out in 2016, with the Dutch featuring in a major tournament for the first time since 2014. For the first time, Austria and Wales reached successive European Championship tournaments. Greece, winners in 2004, were the only former champions which failed to qualify, missing their second straight European Championship and third consecutive major tournament.
The tournament, which will take place in 12 cities across Europe, will be hosted across the continent for the first time to mark the 60th anniversary of the competition.
Group A: Italy, Switzerland, Turkey, Wales
Group B: Belgium, Russia, Denmark, Finland
Group C: Ukraine, Netherlands, Austria, Path D/A
Group D: England, Croatia, Czech Republic, Path C
Group E: Spain, Poland, Sweden, Path B
Group F: Germany, France, Portugal, Path A/D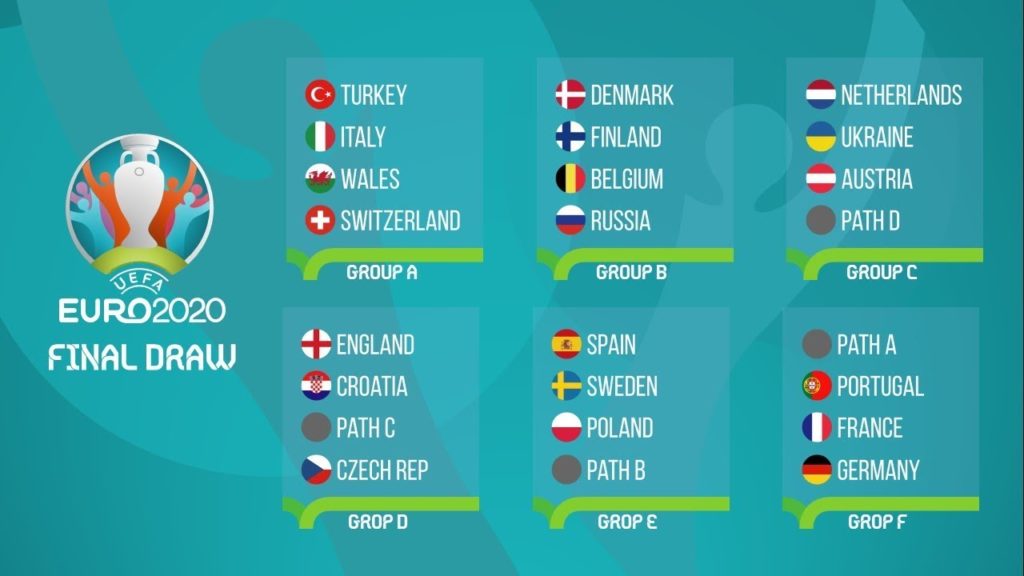 UEFA announced the tournament schedule on 24 May 2018, which only included kick-off times for the opening match and quarter-finals onward.The kick-off times of the remaining group stage and round of 16 matches were announced on 30 November 2019 following the final draw. Group winners, runners-up, and the best four third-placed teams advance to the round of 16.